Welcome to the Northern Waters Library Network spotlight!
Did you know there are 29 libraries in our library network? We are proud to showcase several of the libraries spanning the eight-county area and what makes each library unique. Every month a different library will be highlighting in this space. Check back at the beginning of each month to see a different library featured!
Library:
Superior Public Library
Director name:  
Sue Heskin
How old is your library?  
Founded in 1888 as the municipal library of the city of Superior, the library moved to its present location, a remodeled grocery store, at 1530 Tower Avenue in 1992.
How many staff and/or volunteers are at your library?  
21 staff members
How has the pandemic affected your library?  
All of our services are back, and our stats. are bouncing back too.  Onward & upward!
Tell me about some of the services your library has to offer. 
We have so much to offer, and October was an especially busy month for us!  Our calendar is packed with storytimes, book clubs, Lego Club, movies, crafts, and a visit from the Duluth Paranormal Society.  And we were thrilled to welcome New York Times-bestselling author William Kent Krueger who joined us on Saturday, October 29 for a FREE reading and book-signing!
What is something special or unique about your library? 
We have 35 murals by Carl Gawboy depicting the history of Superior and Douglas County, beginning with the Ojibwe creation story and ending with the Edmund Fitzgerald.
What is the coolest thing you'd show me on a tour of your library?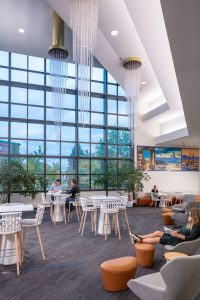 Do you have any library news or other updates you'd like to share? 
We have a book bike that we've already used in the Pride Parade, and we were excited to ride it in the Spooktacular Parade!